Crea Nuove Strategie di Trading Per Ogni Mercato e Timeframe
StrategyQuant X è la piattaforma più potente per generare, sviluppare e ricercare strategie di trading algoritmico con un clic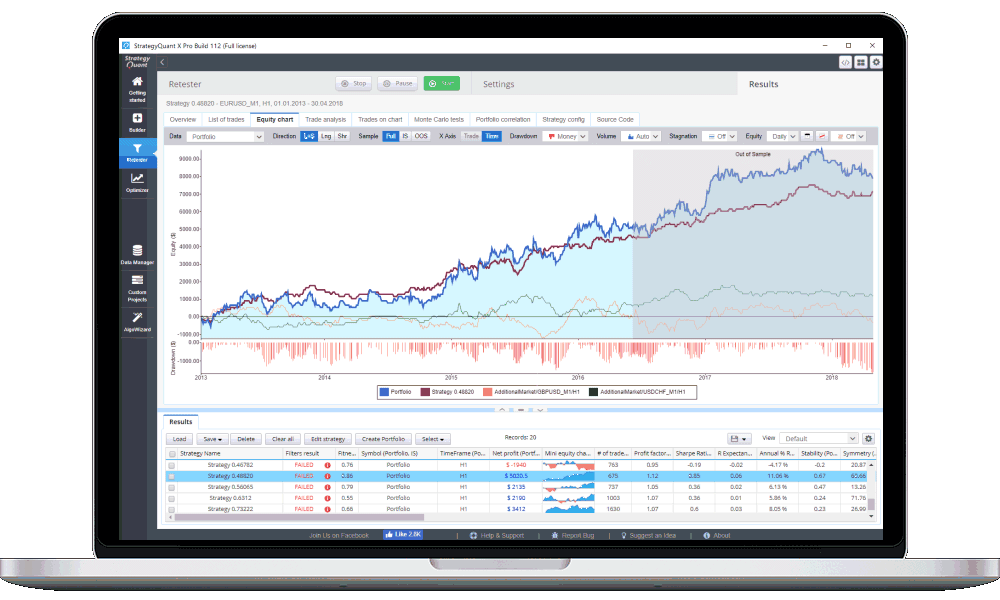 Diventa un trader di successo anche senza competenze di programmazione
StrategyQuant X ti offre gli strumenti di quant e hedge fund professionali. Costruisci il tuo portafoglio di strategie di trading quantitativo.
Programmazione non richiesta
punta & clicca, interfaccia amichevole. Codice sorgente completamente generato.
Multi-Mercato & Multi-TF
sviluppa strategie che utilizzano più grafici di input con simboli o TF diversi.
Test di robustezza automatizzati
assicurati che le tue strategie siano robuste e abbiano un vantaggio reale sul mercato
Caratteristiche uniche
Migliora strategie, Ottimizzatore Walk-Forward , template personalizzati, logica Fuzzy e molto altro.
Cos'è esattamente StrategyQuant
StrategyQuant è una potente piattaforma di sviluppo e di ricerca strategie che utilizza tecniche di machine learning e programmazione genetica per generare automaticamente nuovi sistemi di trading automatizzati per qualsiasi mercato o timeframe.

È in grado di generare e verificare milioni di diverse condizioni di entrata e uscita, tipi di ordine e livelli di prezzo, per trovare le strategie più performanti in base ai tuoi criteri di selezione – per esempio Profitto Netto, Ritorno vs Drawdown, Sharpe ratio etc.
Processo di sviluppo della strategia in 3 semplici passaggi:
Genera migliaia di strategie di trading basate su processi di machine learning avanzati per mercati e timeframe diversi
Seleziona solo le migliori strategie di trading sulla base dei risultati di backtest avanzati, test di robustezza e ottimizzazione.
Crea un portafoglio di trading da strategie collaudate per avere successo in diverse condizioni di mercato.
Come può aiutarti a migliorare i risultati di trading
Cosa dicono i nostri utenti
I can tell you that your customer service, support and advice (hardware) was a big influence in my decision to go with you guys.

And of course the fact the software and your plan for it's development is brilliant, thorough and unmatched in the industry at this price point.
I have recently purchased StrategyQuant and have been absolutely delighted by the fast response of their support team.
It is such a welcome relief to find such professional support staff that supplement such a fantastic product offering. I cannot recommend StrategyQuant products and services highly enough.
StrategyQuant is a powerful software for the development of strategies for online trading, as well as many options for construction integrates all the necessary tests to verify the robustness of the strategies.
If you start from scratch with automatic trading I recommend a course to correctly use the software.

The package also includes Quant Analyzer, software needed for portfolio analysis and construction, and EA Wizard an excellent program to develop trading ideas without knowing MQL programming.

The customer service is exceptional they are very friendly and knowledgeable, they answer questions and requests very quickly. If you want to develop automatic trading portfolios exploiting the power of the PC and without knowing the programming language I highly recommend the purchase of the software package.
Cosa rende unico StrategyQuant X
StrategyQuant X è il software più complesso e avanzato del suo genere. Con le sue caratteristiche uniche eccelle nel trovare e ricercare strategie sistematiche reali, robuste e negoziabili. Un esempio di funzionalità che è possibile trovare solo in StrategyQuant X:
Richiedi la prova gratuita e testa la potenza di StrategyQuant X.