Documentation
Last updated on May 7, 2015 by Mark Fric
Using sectors in Portfolio Master
Filtering portfolios by sectors is usable when you have many strategies trading on one symbol / market or market sector, and you want to limit your portfolio to only a certain allowed number of strategies per sector.
Forex example – you have 15 strategies that trade on EURUSD, 10 other strategies that trade on GBPUSD, 12 strategies trading on USDJPY and 8 strategies trading on USDCHF.
You want to build a portfolio of maximum 10 strategies, but so that it doesn't contain more than 3 strategies trading on the same symbol.
Futures / stocks example – you have strategies from different market sectors – energies,softs, grains, meats, indexes.
Again, you want to create an optimal portfolio that is diversified, you want your portfolio to contain maximum 2 strategies for each sector.
We'll explain how you can configure this with portfolio master.
Step 1: Choose the strategies
The first step is to switch to Portfolio Master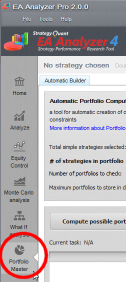 and load the strategies. We can see that we have strategies for 4 different symbols here. We want to create a portfolio of 6-7 strategies, that will have max. 2 strategies per each symbol.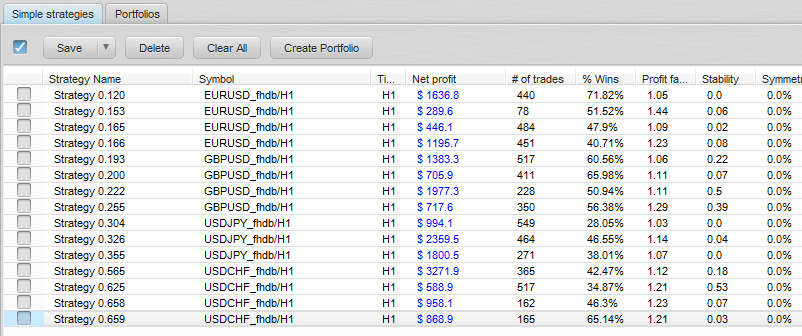 Step 2: Define sectors for each strategy
Work with sectors is very simple – we just have to define which sector each strategy belongs to. We can use Note field in databank to write sector for every strategy.
If you don't see Note column in the databank just change the view to Default with Note, or edit your custom view and add Note field there.
now that we see Note we have to edit it, and write the sector identifier for every strategy.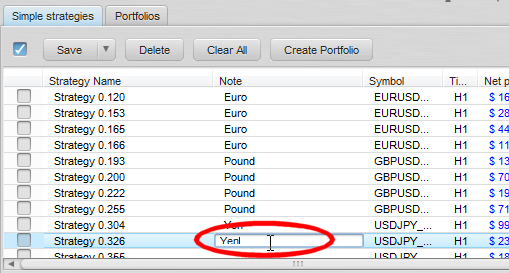 You can name your sector any way you want, it just has to be the same text for all the strategies in one sector.
If you leave note blank it will be not considered in sectors condition and any number of such strategies will be combined in the portfolio.
Step 3: Define how many strategies per sector are allowed in portfolio
In the configuration we'll select that we want maximum 2 strategies per sector in our portfolio

Step 4: Starting Portfolio Master
The last remaining thing to do is to start Portfolio Master.
You can see that portfolio builder automatically skipped some portfolio combinations because they had more strategies per sector than allowed .
That's all. Now all the portfolios created and stored in your Portfolios databank will contain only portfolios with allowed number of strategies per sector.
Was this article helpful? The article was useful The article was not useful